Hello Dear Readers and Happy New Year!
My husband and I set up a little sewing station for me over our Christmas break and I can't wait to show it to you. I just have a few more touches to do and then I'll need to take some nice photos to upload.
My sister-in-law and I would just love to do a craft show this year. We decided to give our table a circus theme so I've been scouring all over
Pintrest
for some inspiration.
I came across these sweet bears and I thought that I could modify them into circus bears with cool, fluffy collars and hats.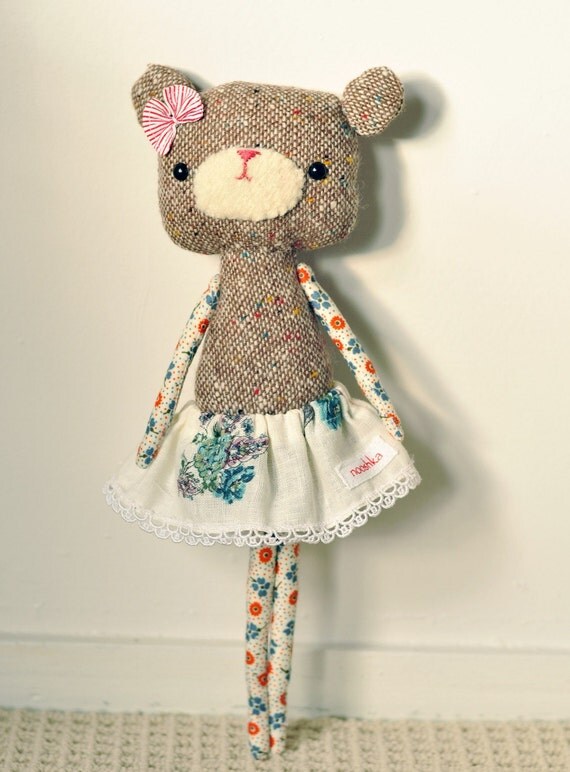 I love the idea of using small scraps of fabric to jazz up an ordinary plushie, so this is what I ended up with.
She's not at all what my diy pattern looked like. Her ears aren't nice and round and her legs are lopsided. Her face is too big. I pretty much gave up when it came to the collar and just threw together a skirt. I added an old bracelet as a necklace and sat Mrs.Ugly Bear on my shelf while I contemplated my work.
(same bear, different background)
I brought her to a woman (very much skilled in sewing) to critique and show me where I went wrong. To my surprise, she loved the bear. She said it was like art and very crafty and creative. I tried pointing out my flaws to which I got "Oh hush! She looks wonderful!"
I am definitely going to try again, and hopefully next week I'll have a real circus bear to show to you all.
Goodnight!
(in Montreal for Christmas)